Your company in a great Berlin location
A business address is not a trivial detail. We see it as an important aspect of your company and a key element of its face to the outside world. In order to give you more time to focus on things that really matter we will gladly take care of both the processing and forwarding of business mail based on your instructions.

Your Berlin business address is clearly recognizable as belonging to your business because it works without having to include Office Club or "c/o" in the address field. If you want to make Office Club your exclusive company headquarters we recommend the more comprehensive Virtual Office package.
Book your business address at any time
Book your new business address on this website at any time. After successful setup and all authorisations from your side provided it will be ready for you to use almost immediately. Choose freely between a minimum term of 3, 6 or 12 calendar months.

In addition to basic mail forwarding we also offer a convenient mail scanning service: Your mail will be scanned upon arrival and sent to you in digital form. This way you will already have all important information before any forwarded business mail arrives in your physical letterbox. Being an Office Club member you may also book the Club's state-of-the-art conference rooms with an automatic 50% discount.
Where is the difference between Business address and Virtual Office?
Business address
Your business address at Office Club allows you to use the Club as the address for your business. It also gives you the option to use several other services and amenities provided by the Club, as well as a discount on conference room bookings. Additional services can be booked and used at any time, including your company nameplate, our convenient Scanning service and much more. The option to flexibly work at the Club (outside the conference rooms that is) is not part of the Business address product.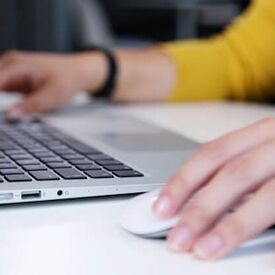 Virtual Office
Should you wish to use the address for entries in official public registries (such as the Business Registry) a Virtual Office / Company domicile is more suitable, unless the business address is noted under the company headquarters address as a dependent branch or purely as a mailing address. By choosing a Virtual Office as your professional home, working from the Club on one weekday (Mon - Fri) a month is already included with additional days bookable at any time.
Prices: Business address
See below for all prices and services for both Business address and Virtual Office. We are looking forward to helping you with any questions or individual requests.
Business address
Virtual Office / Company domicile
from € 69 / mth.
from € 99 / mth.
Versatile business address
May be used as company HQ

You may use your Virtual Office as your company's registered office for business related registrations (e.g. commercial register), for your website's imprint or on your business cards. We recommend not to use your Virtual Office address for a business registration or the like if you are not using workspace on site from which you conduct actual administrative activities. Note: This information is purely indicative, thus non-binding and cannot be a substitute for legal or professional advice (with your attorney-at-law or tax consultant).

Discounted as add-on for Club members

Book a discounted business address as an add-on to your Club membership (workspace memberships; see above).

-
Company nameplate mth.
€ 19
€ 19
Info mail service mth.

Receive info emails listing the senders of all accepted mail on your behalf.

€ 9
€ 9
Scanning service mth.

Price excl. € 2.49 scanning charges / letter.

€ 19
€ 19
Using workspace (weekdays 9 am - 7 pm)

Use the Club's flexible desks (Hot desks). One day of coworking is included each month, additional days only cost €19 / day.

-
Included days mth.
-
1 (Hot desk)
Additional days, each
-
€ 19
Mail acceptance
Mail forwarding

Choose between daily, weekly or monthly mail forwarding to a recipient of your choice (€ 5 + € 0.49 / forwarded letter).

Printer, copier, scanner
-
50% discount on conference rooms

All members get an automatic 50% discount on conference room bookings.

Book now
Book now

All prices are net prices excl. valid VAT.
How quickly will my business address be available?

After booking your business address and receiving the ensuing confirmation from us, your business address is ready for use. However, incoming business mail cannot be processed until you have provided written authorization giving our staff the legal right to handle your mail. If you have any questions about booking or setting up your business address, we are available to assist Monday through Friday between 9 a.m. and 6 p.m. (with the exception of holidays).

Do I have to pick up mail myself or is it possible to have it forwarded to me?

We can do both. All incoming mail is sorted in the Club and stored for you until collection. But we may also collect and forward your mail to you. Choose between daily or monthly mail forwarding, whichever works best for you. You make this decision at the time you book the service through our online booking system and may change it at any time. We will only charge the postage and a small packing and processing fee for each bundle of mail.

How does the optional scan service work?

Our scan service is designed for all members who want to receive their mail the day it arrives. If you book the scan service, your mail will be discretely opened by our staff, the content scanned and then sent to you in digital form. Book your scan service at any time!
All FAQ